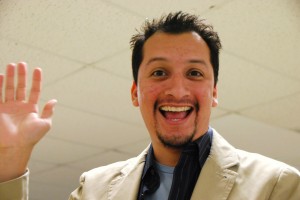 b. October 14, 1978, Austin, TX
Daniel Montoya Jr.
, Austin native, dog lover, and inveterate sweet tea drinker, is a rising star in the world of wind band, percussion, and the marching arts. An active composer and arranger, Montoya received his master's degree in music composition, under the tutelage of David R. Gillingham, at Central Michigan University. He also holds a bachelor's degree in music composition from Texas State University and has studied privately and participated in composition master classes with Kevin Beavers, William Bolcolm, Cindy McTee, Kevin Puts, Russell Riepe, and Roberto Sierra.
In a short time, Montoya has gained recognition for his contributions in the area of percussion and wind band literature. His first piece for symphonic winds,
Danse Moods
, qualified him to study with Mark Camphouse, David R. Gillingham, and Frank Ticheli as part of the National Band Association's "Young Composer Mentor Project," and was a 2008 recipient of the Atlantic Coast Conference Band Directors Association, "Grant for Young and Emerging Composers" for his piece,
Crystal Microphone.
Additionally, his works have been performed at Avery Fisher Hall, The Midwest Clinic, the North American Saxophone Alliance Biennial Conference, the North Carolina Music Educators Association Conference, the Percussive Arts Society International Conference, the Texas Music Educators Association Conference, and the Texas Bandmasters Association Convention.  Montoya has been a consecutive ASCAPLUS Award winner for his body of work since 2004.
Concurrent with his success in the field of composition, Montoya has quickly become an acclaimed arranger for the marching arts. He has been praised for his innovative approach to musical design, which he achieves while still maintaining the musical integrity of the original compositions. Bands using his arrangements have garnered accolades such as winning state championships, USBands State & Regional Championships, Bands of America Class & Regional Championships, as well as placing in state finals, Bands of America Regional finals, Super-Regional finals, & Grand National finals.  He is also the wind arranger for the 2012-2013 U.S. Army All-American Marching Band.
Prior to becoming a full-time composer and arranger, Montoya served as percussion specialist at Plymouth-Canton Educational Park (Canton, MI) in 2006, Ronald Reagan HS (San Antonio, TX) from 2004-2006, and James Bowie HS (Austin, TX) from 2000-2004. During the summers of 2003 and 2004, Montoya was the composition department assistant and percussion assistant at the Sewanee Summer Music Festival.
Montoya's music is published by Drop 6 Media, Inc. and his publishing company, Underwater Theme Productions. Montoya is an Artist/Educator for Innovative Percussion, Inc. and is a member of ASCAP and Phi Mu Alpha Sinfonia.